#ejta2023
Digital Storytelling –
Next Steps
European Journalism Training Association General Meeting
October 18th – 20th 2023, Vienna, Austria
Registration NOW possible
Please check the website for future updates
EJTA2023 Day 1: Board meeting & project meetings
1

9:00 am – 1:00 pm

EJTA Board Meeting
@ Room: A102

1:00 – 2:00 pm

Lunch break
@ In-House Restaurant

2:00 – 3:15 pm

EJTA Project Meetings 1:
Data journalism + AI taskforce (@ Room: A102)
Lifelong learning (@ Room: A113)
Sustainable EJTA (@ Room: B103)

3:15 – 3:30 pm

Coffee Break

3:30 – 5:00 pm

EJTA Project Meetings 2:
EUfactcheck (@ Room: A102)
Inclusive journalism teaching (@ Room: A113)
6:00 –
approx. 8:00 pm
Welcome reception
Welcome sponsored by the Austrian News Publishers Association (Verband Österreichischer Zeitungen)
@ Restaurant Podium
Westbahnstraße 33, 1070 Wien
restaurant-podium.at
How to get there (Google Maps)

8:00 pm

Dinner for EJTA Board & hosts
@ Meissl & Schadn
Schubertring 10-12, 1010 Wien
Westbahnstraße 33, 1070 Wien
meisslundschadn.at
EJTA2023 Day 2: AGM & COPE training
1

8:30 – 9:00 am

Check-in FHWien der WKW @ Entrance FHW

9:00 – 11:15 am

EJTA AGM 2023 – Part 1
@ Karl-Dittrich-Saal (A101)

11:15 – 11:45 am

Coffee break @ Foyer

11:45 – 1:15 pm

EJTA AGM 2023 – Part 2
@ Karl-Dittrich-Saal (A101)

1:15 – 2:15 pm

Lunch break @ Foyer

2:15 – 3:30 pm

COPE Training – Part 1
@Saal A102
OPTIONAL: Guided tour of Vienna City Hall – Start at 3 pm
@ Friedrich-Schmidt-Platz 1, 1010 Wien
How to get there (Google Maps)

3:30 – 4:00 pm

Coffee Break @ Foyer

4:00 – 5:45 pm

COPE Training – Part 2
@Saal A102

7:30 – 11 pm

EJTA AGM Dinner at traditional Viennese Heurigen
@ Weinhof Zimmermann
Mitterwurzergasse 20, 1190 Wien
How to get there (Google Maps)
EJTA2023 Day 3: Conference "Digital Storytelling: Next steps"
1

09:30 – 10:00 am

Check-in @FHWien der WKW

10:00 – 10:10 am

Conference start "Digital Storytelling: Next steps"
Official Welcome@ Karl-Dittrich-Saal (A101)

10:10 – 10:30 am

Keynote on "Digital Storytelling: Next steps":
AI in Journalism: Grow up and deal with it
Speaker: Katharina Schell, Deputy Editor-in-Chief at Austrian Press Agency with focus on topics of digitalisation and innovation

@ Karl-Dittrich-Saal (A101)

10:35 – 11:15 am

Panel discussion @ Karl-Dittrich-Saal (A101)

11:15 – 11:45 am

Coffee break

11:45 – 1:00 pm

Workshops 1
Investigative journalism with DOSSIER.at
@ Room: A102
About: Dossier.at is an Austrian medium for investigative journalism and data journalism founded in 2012. The medium has a special focus on topics such as corruption, exploitation and systemic failure. Research results are often processed and presented in multimedia form.
Young audiences - journalism on Instagram with Chefredaktion
@ Room: A101
About: Chefredaktion (editor-in-chief) is an Austrian online medium on Instagram that is especially aimed at teenagers and young adults.

1:00 – 2:00 pm

Lunch break

2:00 – 3:15 pm

Workshops 2
Kurier
@ Room: A102
About: Transforming austrian newspaper KURIER into a digital first publisher – with Karl Oberascher, Head of Audience Development
Inclusive journalism with andererseits.at
@ Room: A101
About: Andererseits is an online magazine for disability and society, where people with and without disabilities work in journalism together. Our team tells you about the world so that you can understand it. We give back to journalism what it lacks: the perspectives of people it excludes.

3:15 – 3:30 pm

Wrap Up, fairwell & individual departure
@ Karl-Dittrich-Saal (A101)

3:30 – 5:30 pm

OPTIONAL: Social activity / sightseeing

5:30 – open end

OPTIONAL: Final get-together
@ Das Loft
Praterstraße 1, 1020 Wien
dasloftwien.at
If you use Erasmus please contact ciem@fh-wien.ac.at
for further information.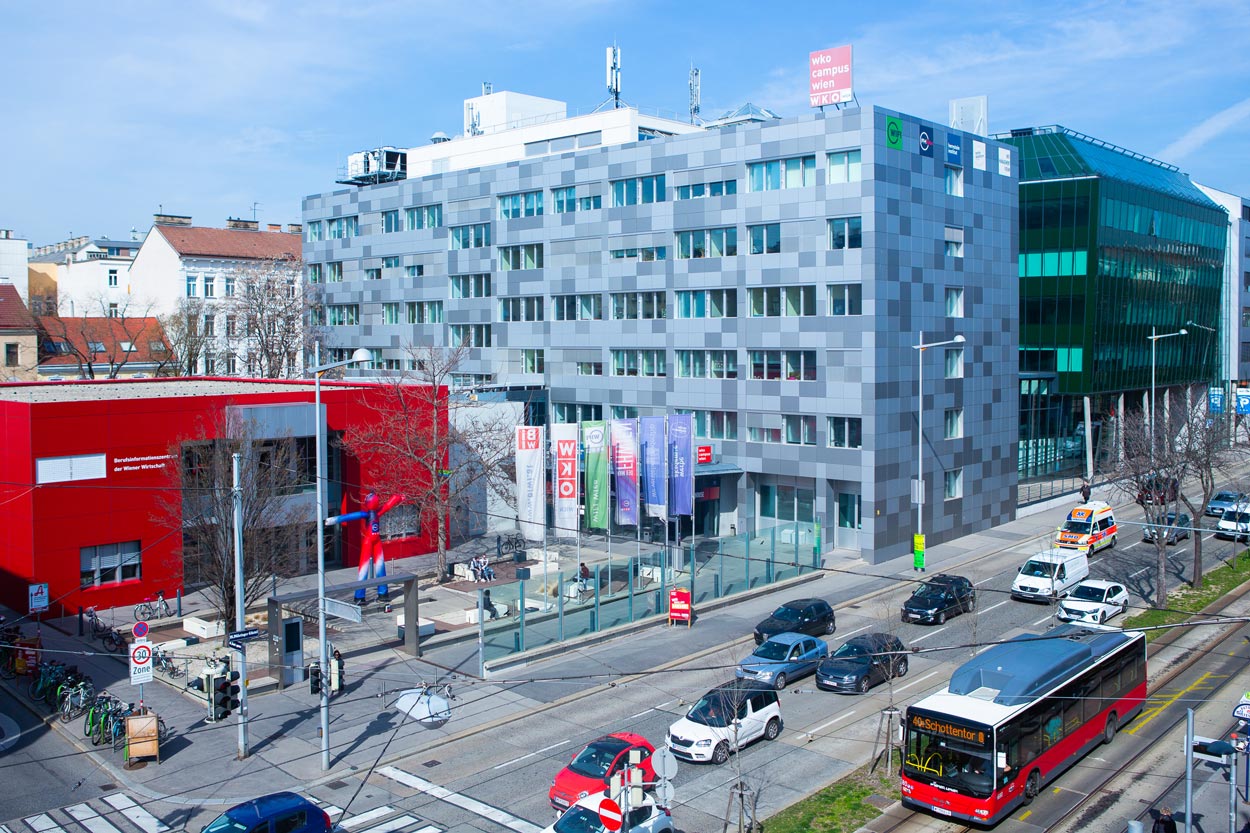 Währinger Gürtel 97
1180 Wien
Subway U6 (Station: Währinger Straße)
Trams 40, 41, 42 (Station: Währinger Straße)
Buses 37A, 40A (Station: Währinger Straße)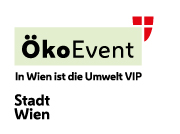 The "ÖkoEvent" certification is awarded by the City of Vienna and recognizes exemplary environmentally friendly events that are carried out in a resource-saving manner, without much waste and emissions.
ÖkoEvent stands for:
the avoidance of waste and optimal waste management
the use of products from the region and from ecological production
the preference for products from fair trade and animal-friendly husbandry
careful use of water and energy
environmentally friendly mobility around the event
and the communication of the environmentally friendly orientation of the event
Source: www.oekoevent.at
Stay informed with our newsletter.